Canadian-manufactured RTDs by Thermo-Kinetics come in various designs, materials, and customizations
August 4, 2022 REDWIRE is news you can use from leading suppliers. Powered by FRASERS.

Posted by Thermo-Kinetics Measurement & Control Ltd.
For over 50 years, Thermo-Kinetics has stood out from the competition in offering the North American industry the best o... Read more
Related Topics
Related Sectors
Subscribe
Free REDWIRE e-newsletter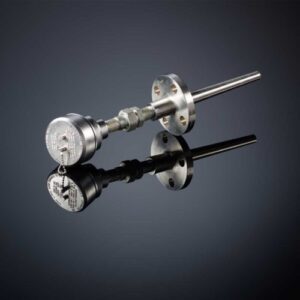 Thermo-Kinetics makes many models of RTDs.
Thermo-Kinetics Measurement & Control Ltd. manufactures many industrial instruments, including various resistance temperature detectors (RTDs). These temperature sensors are trusted across Canada in a variety of industrial environments to provide reliable temperature measurement, tailor-fitted to the customer's needs and processes. Thermo-Kinetics also offers calibration services for RTDs, thermocouples, and IR thermometers in an ISO 17025-accredited lab and traceable to NRC/NIST.
RTDs can be manufactured to cover a wide range of temperatures from -200 to 650 degrees Celsius. While they offer lower temperature ranges compared to thermocouples, these devices are often used in research where precision temperature control is required, or where low temperature and long-term stability are required.
Selecting a two-, three-, or four-wire RTD
RTDs from Thermo-Kinetics are typically made with platinum wound glass, ceramic bulbs, and copper or nickel windings in a stainless-steel tube with leads running to an instrument. The instrument provides an excitation voltage, and when the temperature rises, the resistance also rises. The instrument will read this resistance and correlate it to a temperature reading.
The temperature sensor circuit will see additional resistances from lead wire, connectors, etc.
To compensate for the additional error introduced into the circuit, it is typically recommended that customers utilize three-wire RTDs, which uses a 3rd compensating wire, so the instrument can provide a more accurate temperature reading.
Three-wire RTDs are an industrial standard, and only in laboratory or other settings where great accuracy is necessary would a four-wire RTD be required.
For more information, contact Thermo-Kinetics or call 1-800-268-0967.
---
Share

Posted by Thermo-Kinetics Measurement & Control Ltd.
For over 50 years, Thermo-Kinetics has stood out from the competition in offering the North American industry the best o... Read more
Related Topics
Related Sectors