Bosch Rexroth aluminum framing enables assemblies with minimal effort
February 10, 2021 REDWIRE is news you can use from leading suppliers. Powered by FRASERS.
Posted by Advanced Motion & Controls Ltd
Advanced Motion & Controls Ltd. teams up with Bosch Rexroth to provide aluminum structural framing for Canadian busi... Read more
Related Topics
Related Sectors
Subscribe
Free REDWIRE e-newsletter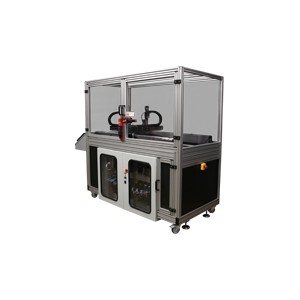 Advanced Motion & Controls offers aluminum structural framing by Bosch Rexroth.
Advanced Motion & Controls Ltd. teams up with Bosch Rexroth to provide aluminum structural framing for Canadian businesses – the largest modular profile system in the world, offering more than 100 different strut profiles. With this solution, customers can complete the most varied assembly tasks with little effort required, even in isolated applications during the COVID-19 lockdown. This line of frames offers a wide variety of options and guarantees fast assembly with ample flexibility.
Perfect for virtually any load
With a portfolio that includes dozens of bolt-together connectors, this portfolio of aluminum framing is perfect for virtually any task or load. The user can assemble almost any structure quickly, without needing any special tools or skills. This framing always looks clean and aesthetically appealing, so even painting or finishing is not required. Artist Kieran Timberlake used this framing in a piece called Cellophane House.
Bosch Rexroth also offers a broad selection of accessories, so that customers can extend their unique application beyond mere frames and bases to multi-functional structures. Each of these framing units is infinitely reusable, which allows users to alter their structures as their needs evolve over time – easily, and at no additional cost.
A key reason to choose Bosch Rexroth aluminum framing over competing products is the wide variety of aluminum profile types, versatile connectors, and accessories. In addition, customers can get access to a free, downloadable layout and design software from the manufacturer, as well as other resources like solid models and a CAD library.
Yet another key advantage is simplification of lean manufacturing. Not only is this aluminum structural framing simple to reconfigure – it is also robust enough to withstand hundreds of changes, workstations, flow racks, and material shuttles, which boosts productivity.
This framing is available through a wide network of authorized suppliers across North American, like Advanced Motion & Controls. Each of these suppliers stocks full inventories of common components and employs aluminum-framing experts who help with design, engineering, and more. They also offer framing in bulk, in kit form, or fully assembled.
For more information, contact Advanced Motion & Controls Ltd.
---
Share
Posted by Advanced Motion & Controls Ltd
Advanced Motion & Controls Ltd. teams up with Bosch Rexroth to provide aluminum structural framing for Canadian busi... Read more
Related Topics
Related Sectors