Banner Engineering solutions available from Advanced Motion & Controls
September 8, 2020 REDWIRE is news you can use from leading suppliers. Powered by FRASERS.
Posted by Advanced Motion & Controls Ltd
Advanced Motion & Controls Ltd. has been supplying innovative workplace solutions in this country for almost 35 year... Read more
Related Topics
Related Sectors
Subscribe
Free REDWIRE e-newsletter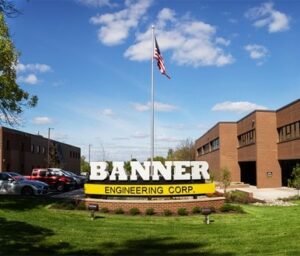 Sensors, readers, controllers, and more are available.
Advanced Motion & Controls Ltd. has been supplying innovative workplace solutions in this country for almost 35 years, solutions from various major manufacturers. Now, the supplier has teamed up with another key producer to offer its solutions in Eastern Canada: Banner Engineering. This is a globally recognized leader in industrial automation, manufacturing sensors, lights, and safety products used by large and small businesses everywhere – from Fortune 500 companies to innovative newcomers.
A strict quality policy
Based in Minneapolis, Banner has provided solutions for challenging industrial issues and achieved customers' automation goals since its founding in 1966. Businesses have come to expect smart, well-built equipment and innovative customized products in that time. With every success, the company has improved its technical capabilities and manufacturing capacity, while growing in industry knowledge and expanding its international market.
A key strength that Banner Engineering boasts is a strict quality policy. Its team is dedicated to making products and performing services that meet or exceed customers' expectations, through the total involvement of the company's staff and a commitment to constant improvement in everything they do. Banner's mission is to develop innovative new solutions of the highest quality, fulfill customers' needs, and operate with honesty and integrity.
The following categories of Banner Engineering products are now available through Advanced Motion & Controls Ltd.:
Sensors. Photoelectric, ultrasonic, and radar sensors, measuring arrays, fibre-optic amplifiers, and units for laser distance measurement.
Machine safety. Safety light curtains, two-handed controls, safety switchers, laser scanners, and in-series diagnostics.
Lighting and indication. Tower lights, touch buttons, LED indicators, vision lighting, illuminated e-stop buttons, and power supplies.
Wireless solutions. Wireless kits, radios, controllers, indicators, buttons, and accessories.
Barcode readers. Laser barcode scanners, imager-based readers, and reader software.
Machine vision. Vision sensors, smart cameras, lighting, controllers, firmware, and barcode readers.
Software. Pro Editor software for indication, connected data solutions for Industry 4.0, and software for sensors, machine safety, and barcode readers.
Accessories. Antennas, configuration tools, cordsets, power supplies, enclosures, muting kits for safety light devices, reflectors, and vision lenses.
For more information, contact Advanced Motion & Controls Ltd.
---
Share
Posted by Advanced Motion & Controls Ltd
Advanced Motion & Controls Ltd. has been supplying innovative workplace solutions in this country for almost 35 year... Read more
Related Topics
Related Sectors