Alfa Laval's Gamajet GJ 9 tank-cleaning device: compact, durable, affordable
May 8, 2023 REDWIRE is news you can use from leading suppliers. Powered by FRASERS.
Posted by John Brooks Company Limited
John Brooks Company Limited: Fluid Handling Solution providers since 1938. For over 80 years, John Brooks Company has pr... Read more
Related Topics
Related Sectors
Subscribe
Free REDWIRE e-newsletter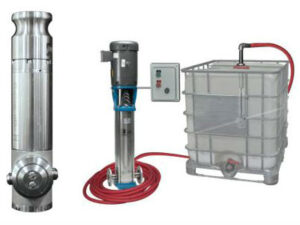 The Gamajet GJ 9 tank-cleaning system
John Brooks Company Limited carries tank-cleaning equipment by Alfa Laval – including the revolutionary Gamajet GJ 9 tank-cleaning device. This is a durable, automated solution that allows businesses to clean intermediate bulk containers and totes in-house in as little as four minutes, while eliminating outsourcing and manual work.
Offering high performance at an affordable price, the Alfa Laval Gamajet GJ 9 provides compact cleaning for small and medium-sized tanks.
The ultimate tote washer
Cleaning tanks and totes manually uses up plenty of time, but it is expensive to outsource this service from third parties. The Gamajet GJ 9 from John Brooks Company is the perfect alternative – the ultimate tote washer, offering a fast yet effective clean at a reasonable price, with a highly durable design. Its fewer parts result in fewer breakdowns and lower maintenance costs. With Alfa Laval's renowned product quality, the durability of this device enables use for rugged applications in demanding conditions.
Initially developed for tote cleaning, the Gamajet GJ 9 is also ideal for smaller tanks, with a 360-degree spray pattern that thoroughly scours the full tank or tote, further lowering expenses and time spent. At an unusually low price, this tank-cleaning device sets the standard for cost-efficient impingement tank cleaning and tote washing – always between four and 12 minutes. It is powerful enough to provide 5½ kilograms of cleaning force at three metres. Among the technical specifications:
Pressure: 40 to 1,000+ pounds per square inch
Temperature: zero to 121 degrees Celsius
Flow rate: 15 to 113 litres per minute
Cleaning radius: 2½ metres
Wash cycle time: 12 minutes
Height: 22½ centimetres
Body diameter: 46 millimetres
Weight: 2.4 kilograms
Clearance: inner diameter with 70 millimetres of minimum passageway
Other options: quad nozzles for quicker cleaning
Among the accessories one can use with this device are the Gamajet GJ ToteBlast station and the Gamajet tripod attachment.
To see the Alfa Laval Gamajet GJ 9 tank-cleaning device in action, check out the video embedded below:
For more information, contact John Brooks Company.
---
Share
Posted by John Brooks Company Limited
John Brooks Company Limited: Fluid Handling Solution providers since 1938. For over 80 years, John Brooks Company has pr... Read more
Related Topics
Related Sectors