Advance Shipping offers special pricing on material-handling and warehouse equipment
September 9, 2021 REDWIRE is news you can use from leading suppliers. Powered by FRASERS.

Posted by Advance Shipping Supplies Inc
We stock thousands of products, and through our partnership with key suppliers, can quickly order thousands more to get... Read more
Related Topics
Related Sectors
Subscribe
Free REDWIRE e-newsletter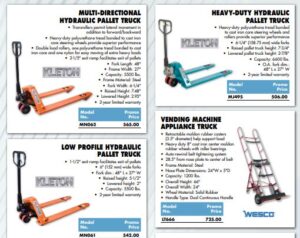 Many items are on sale until Sept. 24.
For more than 35 years, Canadian businesses have been relying on Advance Shipping Supplies Inc. for its inventory of industrial shipping and packaging equipment. But the company's lineup of products stretches much further than that. From now until Sept. 24, Advance Shipping is offering a special promotion on a wide range of material-handling and warehouse equipment, ranging from a broad selection of fans to pallet trucks, tapes, and much more.
Floor, drum, and air-circulating fans
The breadth of fans available from Advance Shipping is very impressive, and the company offers special pricing on many fan options for the next two weeks. Among the examples of products are floor fans, drum fans, air-circulating fans, roll-about fans, oscillating fans, pedestal fans, box fans, and desk fans. Also on sale are two kinds of air-conditioning units: an electric window horizontal air conditioner, and a mobile three-in-one air conditioner. As the warm summer season continues, customers have a broad selection of cooling options.
Advance also has current specials on for these items:
Hydraulic pallet trucks. Options include multi-directional, low-profile, heavy-duty, and long-fork units. Each pallet truck comes with a two-year limited warranty, with varying sizes and raised or lowered heights.
Stack-and-Shred shredder. Able to slice through paperclips and staples as well as paper.
Water dispenser. Counter-top model for hot, cold, or room-temperature water.
Office chair. Easily adjustable pneumatic seat height.
Ergonomic stool. Heavy-duty seat with sturdy five-leg base.
Aluminum key cabinets. With pre-drilled holes for mounting.
Trailer stabilizing jack. For stabilizing vehicles against load shifts.
Vending-machine appliance truck. With retractable moldon rubber coasters to help support loads.
Deluxe nose plate hand truck. For easy transport of short-to-tall loads.
Receiving scales. With programmable auto-off function.
Mobile platform scale. No lifting required.
Reed measuring instruments. Examples include a laser distance meter, an infrared thermometer, and a wet-bulb globe temperature heat stress meter.
Kleton tapes. Options include box-sealing tape and reinforced Kraft tape. Tape dispensers also available.
Many more items are on special; please check Advance's online flyers for more info.
To learn more, contact Advance.
---
Share

Posted by Advance Shipping Supplies Inc
We stock thousands of products, and through our partnership with key suppliers, can quickly order thousands more to get... Read more
Related Topics
Related Sectors