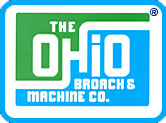 Tooling Designers
---
We perform the design and manufacturing of new tooling for broaching machines. We will take your specifications into consideration and determine the ideal design for you. We can create tooling for use on your existing equipment or provide a new machine from our wide selection. The tooling length, pitch, and tooth load will be tailored to suit your needs. We will do everything to ensure your new broaching equipment provides the optimal speed, reliability, and tool life. The Ohio Broach & Machine Co. is one of North America's leading manufacturers of broach machines and tooling. Our products are in use across the globe from Canada to Israel.
Tooling designers
Broaching is a high precision process and it requires tools that are expertly designed and manufactured. Our engineering department has CAD capabilities, extensive experience, and the technical knowledge to provide the perfect equipment for you.
We also offer broach sharpening and reconditioning services, to ensure you are not forced to replace your tools prematurely. These services extend tool life and result improved efficiency. We also offer broach pullers as well as fixtures and holders.
Visit the Ohio Broach website to fill out a RFQ form, and we can get started designing a custom tool that will exceed your expectations.
Tooling design expertise
We understand all aspects of broaching as we also perform production broaching services. We have created a broad array of parts for our customers. Some examples include T-shaped slots, teeth, serrations, hexes, and squares. We are ISO certified and we have more than 50 years of experience.
Tooling design industries
We have designed tools that are used in the broaching of a variety of precision components. Some of the products that are made using our equipment include cutting teeth, medical implants, internal gears, and irregular shapes. Our customers work in markets ranging from aerospace to agriculture.
---
Share