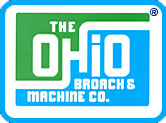 Machinery Builders
---
Experienced machinery builders at The Ohio Broach & Machine Co. will produce a broaching machine to meet any specification. We have a team of designers and engineers who can create a machine for any unique application. We also manufacture a wide selection of standard horizontal and vertical broaching machines. We have the capability to create complete systems including robotic automation equipment. Our company has been serving all areas of the broaching industry for more than 50 years. We are ISO certified and dedicated to unparalleled workmanship and service.
Machinery builders
We manufacture broaching machines of all types. We offer heavy duty vertical machines that have hardened and ground steel ways, precision ram slides, and pressurized lubrication systems. Our machines have rigid, stable constructions and reliable "open-loop" hydraulic systems.
We offer horizontal machines with capacities ranging from 5 to 35 tons, and from 20" to 90" stroke. We have dual ram vertical machines ranging from 5 ton to 15 ton, and 48" to 73" stroke capacities.
The automated systems we can provide include robot-operated cells and pick-and-place systems. This equipment enables automatic secondary operations such as drilling and tapping. Trouble shooting, consultation, and engineering services are available. We also perform machine repair and rebuilds.
Machinery builder expertise
We have been providing the broaching industry with fast, reliable, and economical solutions since 1956. Our team is made up of approximately 50 employees who have extensive knowledge and experience. We operate out of a 50,000 square foot facility and ship more than $7 million in sales. Our products are in use around the world including Canada, France, Israel, and South Korea.
Machinery builder industries
We regularly serve customers from many diverse industries. Our wide selection of machines, and our custom design capabilities allow us to meet the unique needs of our customers. Some of the industries we have worked with include automotive, oil, aerospace, defense, and medical.
---
Share