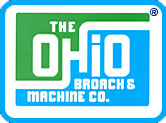 Custom Built Machines
---
Our broach machines offer an accurate, versatile and cost-effective method for producing metal parts. We have a team of knowledgeable designers, engineers, and craftsmen who will build a machine to meet your specifications. In addition to machines, we have the capability to produce specialized tooling. We are dedicated to always maintaining the highest quality standards, and we are ISO certified. The Ohio Broach & Machine Co. brings over a half century of experience to the table when designing the best solutions for you. We will provide equipment that is tailored to your needs for material, dimensions, and capacity.
Custom built machines
We build all types of broaching machines including both horizontal and vertical styles. We can also design complete solutions with automated equipment including robot-operated cells and pick-and-place systems. These systems can even handle any secondary operations including drilling and tapping.
Besides custom designed broaching equipment, we also offer a comprehensive selection of standard machine models. All of our standard horizontal models feature rapid return of the broach pull head to the starting position. We have horizontal machines with capacities up to 35 tons and dual ram vertical machines with capacities up to 15 tons. These machines feature guide heads available made from one-piece cast iron or continuously welded steel.
Custom built machines expertise
We have been providing complete design and manufacturing solutions to the broaching industry since the 1950's. Our knowledgeable staff is made up of experienced professionals who are dedicated to helping our customers overcome challenges. Our equipment will help you increase productivity, reduce costs, and enhance your final products.
Custom built machines industries
Our flexible services have allowed us to serve customers from many diverse industries and markets. Our products are used around the world in industries such as oil, automotive, aerospace, medical devices, and defense. So we can take on any project, regardless of the unique requirements.
---
Share