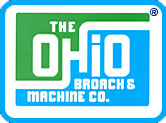 Broaching Machines
---
A wide variety of broaching machines are available from The Ohio Broach & Machine Co. We can offer a comprehensive selection of standard machines for virtually any requirement. We also design and build machines to suit special applications. Our selection includes both horizontal and vertical machines, capable of broaching materials ranging from copper to hard rubber. Our services include machine troubleshooting, repair, rebuilding, and retooling. We are an ISO certified manufacturer with over 50 years of experience in the industry. Contact us today to request a quote or take advantage of our expert consultation services.
Broaching machines
We have horizontal internal broaching machines that have up to 35 ton capacities with up to 90" stroke. Dual ram vertical broaching machines are also available with up to 15 ton capacities and stroke length up to 72".
Our table-up broaching machine is designed to eliminate the need for work platforms and broaching pits. This simplifies the operator's job and increases productivity. Parts can be loaded into this machine at floor level, as it automatically lifts the workpieces vertically to engage the broach tools.
Our machines feature rigid, stable construction that is essential for precision tool tracking. The machine ways that guide the pull head on our equipment are composed of hardened alloy steel and ground to stringent tolerances.
Broaching machines expertise
Since 1956, we have been serving the broaching industry with design and manufacturing solutions. We have become one of the leading manufacturers in North America, and our equipment is used worldwide. In addition to machines, we build and repair broach tools and can provide production broaching service.
Broaching machines industries
Our equipment provides a flexible, efficient, and economical way to produce metal parts. Our machines are versatile, and our design capabilities allow us to offer machines for a range of applications. Some of the industries we have served include oil, automotive, aerospace, defense, and medical.
---
Share