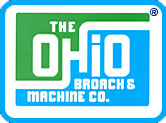 Broaching Cutters
---
Broaching cutters designed to meet your requirements are available from The Ohio Broach & Machine Co., a leading manufacturer with over 50 years of experience. Our engineers can work with you to find the ideal design for your needs, including the best tool pitch, length, clearance angles and face angles. Besides custom tool design and manufacturing, we offer repair and reconditioning services to bring your tools back to like-new condition. A well designed and properly maintained cutter is essential to achieving high quality results in you broaching operations. Our services will help make your operation as efficient, economical, and accurate as possible.
Broaching cutters
We understand the need for precision tools in the broaching industry, so we manufacture our products to the tightest tolerances. Our experienced engineers use CAD software in the design of broach tools, pullers, holders and fixtures. But it may not be necessary to get a brand new tool, since our broach sharpening, welding, repair and reconditioning services will add years to the life of your equipment. These services also ensure your tools are always working efficiently and accurately.
We can tailor your new tools for use on your existing equipment, or supply a whole new machine from our wide selection. We have both horizontal and vertical machines, and table-up models that eliminate the need for a work platform. If your existing machine is not running like it used to, we can also provide consultation, troubleshooting, repair, and rebuilds.
Broaching cutter expertise
We have experience in all aspects of the broaching industry, since we perform design, manufacturing, and repair of all types of machines and tools. We can provide complete broaching solutions that include automation systems. In addition, we also perform production broaching ourselves to meet our customers' needs for precision machined parts of many types.
Broaching cutter industries
The flexibility of our custom services allows us to work with many diverse customers. Our equipment is in use around the globe, and we regularly work with industries ranging from automotive and aerospace to agriculture and medical.
---
Share