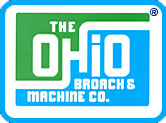 Broach Reconditioning
---
Broach reconditioning, repair, welding, and sharpening services are available from a leading manufacturer broaching equipment, The Ohio Broach & Machine Co. Our grinding department operates 24 hours a day so we can get started on repairing broaches immediately to handle any emergencies. Our services will return dull broaches to like new condition. This will ensure your equipment always provides high quality results. We can also offer consultation, troubleshooting, and broach holder bar disassembly and reassembly. We are ISO-certified and have the technical knowledge to solve any problem quickly and effectively.
Broach reconditioning
The many benefits of our reconditioning services include improved broach performance, reliability, and lifespan. When slender broaches become dull, they easily fracture due to the added pulling force. But broach sharpening helps to eliminate that danger. A sharp broach will also help you cut costs, because it offers energy efficient performance and will reduce your cost per piece.
To ensure you know when reconditioning is needed, we can also provide a gauge set for checking broach tool radius and face angle. The set will ensure your inspection process is quick and precise. It enables convenient checking of gullet radius and hook angle. We also offer design, building, and rebuilding of broaches and broach machines.
Broach reconditioning expertise
Our company was founded back in 1956. Since the beginning, we have provided sharpening services that ensure our customers' broaches always have a productive edge. We have grown to a team of about 50 people, operating around the clock on two shifts, working in our well-equipped facility spanning more than 50,000 feet.
Broach reconditioning industries
We have supplied equipment around the world. Our products are in use across North America, France, Holland, Mexico, and Israel. The types of products that are made using our machines include medical implants, hexes, squares, t-shaped slots, cutting teeth, and more. The industries we serve range from agriculture to defense.
---
Share