Thermowells Catalogue
---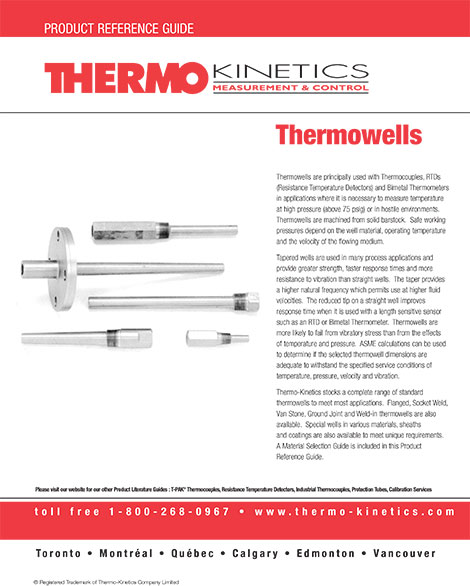 Download Catalogue
Thermowells are principally used with Thermocouples, RTDs
(Resistance Temperature Detectors) and Bimetal Thermometers
in applications where it is necessary to measure temperature
at high pressure (above 75 psig) or in hostile environments.
Thermowells are machined from solid barstock. Safe working
pressures depend on the well material, operating temperature
and the velocity of the flowing medium.
Tapered wells are used in many process applications and
provide greater strength, faster response times and more
resistance to vibration than straight wells. The taper provides
a higher natural frequency which permits use at higher fluid
velocities. The reduced tip on a straight well improves
response time when it is used with a length sensitive sensor
such as an RTD or Bimetal Thermometer.
Thermowells are more likely to fail from vibratory stress than from the effects of temperature and pressure.
ASME calculations can be used to determine if the selected thermowell dimensions are adequate to withstand the specified service conditions of temperature, pressure, velocity and vibration.
Thermo-Kinetics stocks a complete range of standard
thermowells to meet most applications. Flanged, Socket Weld,
Van Stone, Ground Joint and Weld-in thermowells are also
available. Special wells in various materials, sheaths
and coatings are also available to meet unique requirements.
A Material Selection Guide is included in this Product
Reference Guide.
Please visit www.thermo-kinetics.com/thermowells for a further explanation and a program to help you determine acceptable thermowell dimensions.
---
Share